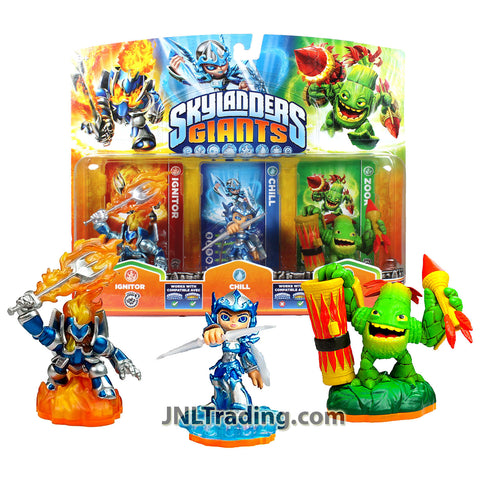 Activision Skylanders Giants Series 3 Pack Set - IGNITOR, CHILL and ZOOK
Product Features
Compatible with Giants, SWAP Force, Trap Team, SuperChargers and Imaginators
Figure measured approximately 3 inch tall
Produced in year 2012
For age 6 and up
Product Description
Ignitor
Gallant and trustworthy, Ignatius changed his name to Ignitor and remains true to his pledge to use his powers to protect the innocent. Since his encounter with the witch that gave him the cursed armor, he holds a dislike for witches.
Chill
As captain of the Queen's guard, Chill was once the most feared and respected of all the people in the Ice Kingdom. She is a proud, noble warrior - but not afraid to play dirty.
Zook
Zook is the cheeriest walking bamboo plant you will ever meet. He lives life to the fullest and wants to explore every last one of Skylands' many islands.
---
We Also Recommend
---