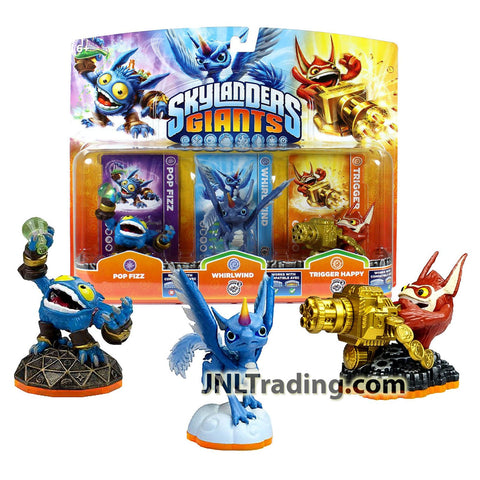 Activision Skylanders Giants Series 3 Pack Set POP FIZZ, WHIRLWIND and TRIGGER HAPPY
Product Features
Compatible with Giants, SWAP Force, Trap Team, SuperChargers and Imaginators
Figure measured approximately 3 inch tall
Produced in year 2012
For age 6 and up
Product Description
Pop Fizz
Pop Fizz is widely known as being a little crazy. The Skylander who puts the mad into a mad scientist, he is bubbling over with crazy amounts of enthusiasm. And that's before he's glugged from his bonkers beast beaker![2] According to Pop Fizz, the reason he keeps drinking his potion, or soda, is that the effects keep him on edge, gives him powers and that it is "soda-licious." He is also one of the few characters who fully understand Double Trouble's language.
Whirlwind
Whirlwind is as brave as she is graceful. Her mood swings can be as changeable as the weather, but since becoming a Skylander, she has tried to keep her temper in check. However, she doesn't keep a calm head when provoked. Whirlwind is strong-winged, wild and ferocious. But deep down, she is pure of heart, having held no grudge against the dragons and unicorns for shunning her.
Trigger Happy
Trigger Happy is more than his name -- it's his solution to every problem. Nobody knows from where he came. He just showed up one day in a small village, saving it from a group of terrorizing bandits by blasting gold coins everywhere with his custom-crafted shooters. Similar tales were soon heard from other villages, and his legend quickly grew. Now everyone in all of Skylands knows of the crazy goldslinger that will take down any bad guy... usually without bothering to aim.
---
We Also Recommend
---