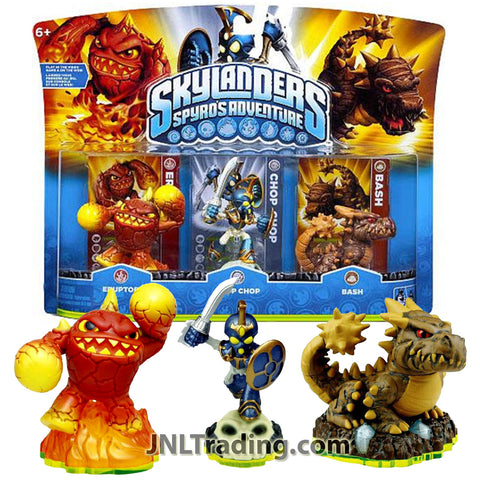 Activision Skylanders Spyro's Adventure 3 Pack Set ERUPTOR, CHOP CHOP and BASH
Product Features
Compatible with Spyro's Adventure, Giants, SWAP Force, Trap Team, SuperChargers and Imaginators
Figure measured approximately 3 inch tall
Produced in year 2011
For age 6 and up
Product Description
Eruptor
Eruptor is a hot head with a strong dislike for anything evil, so whenever something bad threatens his world, he quickly erupts... quite literally. When he isn't getting angry at the forces of Kaos, he's blowing a fuse and exploding with rage about smaller things, such as creaky floorboards and people not covering their mouths when they cough. With his hot temper, Eruptor never shies away from speaking his mind.
Chop Chop
With his skeletal frame, cold voice, and tremendous abilities, Chop Chop is often assumed to be a bit of a frightening fellow. In truth, he is a very frightening fellow. Despite that however, he appears to possess a sense of honor, as shown by his dedication to finding those who created him.
Bash
Never tell Bash he can't do something. This resourceful, stubborn Skylander will keep on rolling until he's proved you wrong. He never gives up without a fight. Despite his gruff disposition, Bash is very sensitive about his inability to fly.
---
We Also Recommend
---