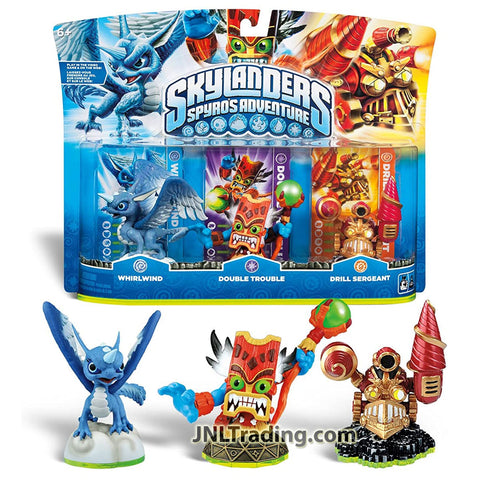 Activision Skylanders Spyro's Adventure 3 Pack Set WHIRLWIND, DOUBLE TROUBLE and DRILL SERGEANT
Product Features
Compatible with Spyro's Adventure, Giants, SWAP Force, Trap Team, SuperChargers and Imaginators
Each figure measured approximately 3 inch tall
Produced in year 2011
For age 6 and up
Product Description
Whirlwind
Whirlwind is as brave as she is graceful. Her mood swings can be as changeable as the weather, but since becoming a Skylander, she has tried to keep her temper in check. However, she doesn't keep a calm head when provoked. Whirlwind is strong-winged, wild and ferocious. But deep down, she is pure of heart, having held no grudge against the dragons and unicorns for shunning her.
Double Trouble
A loner at heart, Double Trouble discovered the joys of companionship through his clones. Always upbeat, the spirited shaman is a bundle of unearthly Eldritch energy
Drill Sergeant
Drill Sergeant was built and programmed to obey orders, which results in him calling everyone 'sir', which irritates some of his comrades. He follows rules to the letter, never wavering until the job is done. As a valued member of the Skylanders, he is a free machine, answering to no one, but old habits of his Arkeyan programming hasn't yet diminished. Like all Tech Skylanders, Drill Sergeant is fascinated by machinery.
---
We Also Recommend
---