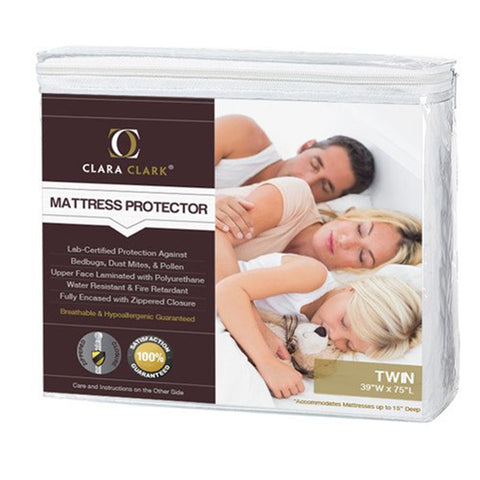 CLARA CLARK WATERPROOF ALLERGY RELIEF MATTRESS PROTECTOR WITH ZIPPER
Keep Your Bed Clean and Luxurious ? Relax and unwind!
Quick and Effective Way to Protect Your Mattress.

100% Waterproof

Top protection against night sweats, urine, liquids and stains? Prolonging the life of your mattress.

Complete Bed Bug Protection

Custom-designed zipper and the sealed fabric won't let any bedbugs make their way to your mattress and nest, it keeps them out!

Allergy Safe

Relief of allergies, blocks dust mites, pollen, mildew, mold, fungus, pet dander, and other triggers? Completely hypoallergenic.

Cool and Dry

Breathable microfiber fabric allows air and heat while repelling liquids. keeps your mattress perfectly cool and dry.

Very Easy Instructions

Easy to use, easy to wash, manufactured with the intent to last very long. Fully enclosed for added assurance.

#1 in Quality

Each and every mattress protector's six-sided enclosed cover is made from the finest materials and expert workmanship ensuring protection for your mattress even after being washed multiple times.

Perfect choice for your own bedroom, children's bed, Teenager, boys, girls, guest room, vacation house, RV, or just any bed!

Safe, Protect and Enjoy a good night's sleep with Your Mattress Protector Encasement.

Complete Mattress Encasement
A must-have for asthma, eczema, and allergy sufferers
Protects from Bed Bugs, Dust Mites, Pollen, Mold, Fungus
Zippered Mattress Cover - High-Quality Smooth polyester surface
The hypoallergenic surface is noiseless and will not change the feel of your mattress and naturally absorbs moisture
Twin size: Measures 39"W x 75"L and fits up to 14 inch
Material: Surface (80% Cotton, 20% Polyester), Lining (100% Polyurethane Laminate), Skirt (100% Polyester, exclusive of elastic)

Mattress Protectors offer premium protection against fluids, and dust mites utilizing our advanced breathable waterproof technology. With just one unprotected fluid accident, a mattress can be completely ruined or left with a permanent stain or odor voiding the manufacturer's warranty. This often occurs with small children, frequent respiration, pets, those with incontinence, or while drinking in bed.
In case of a fluid accident, simply removed the protector and place it directly into the washing machine, This with allergies, asthma, and eczema will also find our protectors especially helpful with our dust mite protection and hypoallergenic cotton terry surface,

Safeguard yourself, your family, and your mattress with Clara Clark Premium Mattress Protectors.
---
We Also Recommend
---