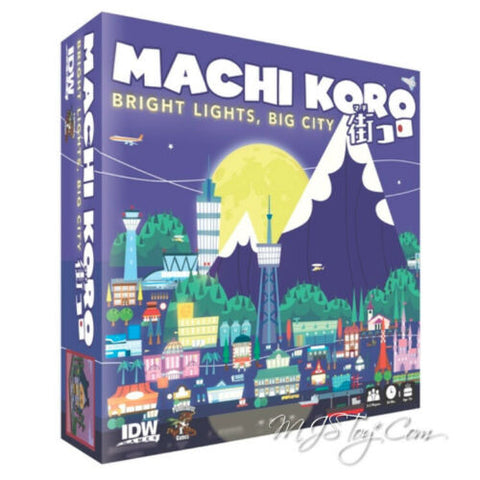 NEW IDW Machi Koro Bright Lights Big City Card/Board Game 2-5 players Age 10+
New
BRAND NEW IDW Machi Koro Bright Lights Big City Card/Board Game 2-5 players Age 10+
Welcome back to Machi Koro, the Card game that is sweeping the world!
Greetings, Mayor of Machi Koro! your influence has led to explosive growth in this once sleepy town. Skyscrapers pockmark the land and nightlife is booming. Our little Machi Koro... the city that never sleeps?! One day, perhaps.
Until then, our darling, temperamental Machians want more. On the docket to grow this mid-size city into the bustling metropolis they think they deserve - A shiny new airport for red-eyes, swanky member's only clubs, wait-list-only sushi bars, and seemingly endless extravagance!
For our mayors, Machi Koro: Bright Lights, Big City is a profoundly different beast and not just in terms of expensive tastes! Get ready for a whole new twist on Machi Koro - new cards, new rules and a whole new way to play ensure no two games will ever be the same. Machi Koro: Bright Lights, Big City is a fun twist on the smash hit Machi Koro and a must have for new and experienced mayors alike!
Are you up for the challenge?? Get ready to see Machi Koro in a whole new light!
Game Contents:
35 Starting Landmark Cards
10 Starting Establishment Cards
25 Major Establishment Cards
132 Establishment Cards
78 Coins
3 Six-sided custom Dice
1 Rulebook
Specification:
2015 Nominiert zum Spiel Des Jahres
Winner Best tabletop game 2015 thegeekieawards
Seal of excellence
Art by Noboru Hotta
Game Design by Masao Suganuma
2-5 Players
30 min
Age 10+

---