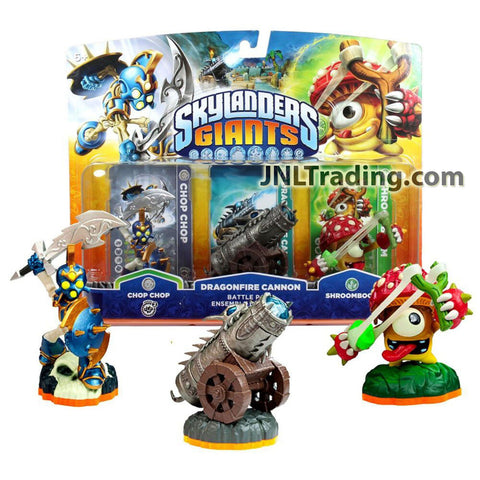 Activision Skylanders Giants Battle Pack Set CHOP CHOP, DRAGONFIRE CANNON and SHROOMBOOM
Product Features
Compatible with Giants, SWAP Force, Trap Team, SuperChargers and Imaginators
Figure measured approximately 3 inch tall
Produced in year 2012
For age 6 and up
Product Description
Chop Chop
With his skeletal frame, cold voice, and tremendous abilities, Chop Chop is often assumed to be a bit of a frightening fellow. In truth, he is a very frightening fellow. Despite that however, he appears to possess a sense of honor, as shown by his dedication to finding those who created him.
Dragonfire Cannon
The Dragonfire Cannon  is the name of a Battle Pack and its titular Magic Item, available with Shroomboom and Series 2 Chop Chop. In Skylanders: Giants, it unlocks the Docks of Doom and Frost Fight Battle Arenas. When used as a Magic Item, the cannon will follow the Skylander and shoot blasts of fire at enemies every few seconds. This will deal damage to one or more enemies at a time, for a total of 300-400.
Shroomboom
As his name implies, Shroomboom is a living mushroom. He has a small body with tiny feet and yellow skin . Unlike most Skylanders, Shroomboom only has one large eye with a black pupil. His tongue is noticably always sticking out of his mouth with four small teeth. He wears a large red mushroom cap with small white bumps and loose belt straps on each side. He wears red spiky gloves on each hand which show his four claw-like fingers. He also has silver spikes protruding from from his backside.
---
We Also Recommend
---