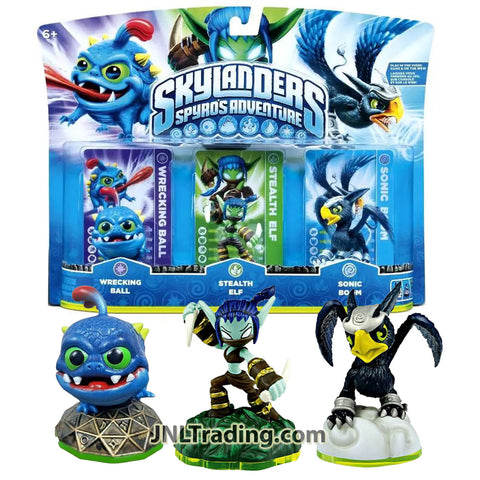 Activision Skylanders Spyro's Adventure 3 Pack Set WRECKING BALL, STEALTH ELF and SONIC BOOM
Product Features
Compatible with Spyro's Adventure, Giants, SWAP Force, Trap Team, SuperChargers and Imaginators
Each figure measured approximately 3 inch tall
Produced in year 2011
For age 6 and up
Product Description
Wrecking Ball
Possibly the most reckless of all the Skylanders, Wrecking Ball rolls into danger without thought for his own personal safety. This lively larva smashes anything in his path (often) by accident, and is always hungry, even when he's just eaten!
Stealth Elf
Stealth Elf, like all elves, adores nature. She is considered to be a guardian protector of the forests and of Skylands. She speaks her mind, whether others want to hear it or not. She can sneak her way into any enemy's territory, but can also be tactless. Like all Life Skylanders, Stealth Elf prefers to keep her feet on the ground. Stealth Elf is also known to use trickery to get out of situations she doesn't feel like doing herself, using her decoys
Sonic Boom
Sonic Boom is described as the maternal individual of the Skylanders since she and her young are the only Skylanders who fight evil as a family. As protective as only a mother can be, maternal Sonic Boom shelters all who need help beneath her wings. She also dislikes bullying. Sonic Boom can also be sensitive, as demonstrated in Terrafin Battles the Boom Brothers when she looked hurt after Terrafin yelled at the griffin in order to get through Sonic Boom's screeching.
---
We Also Recommend
---