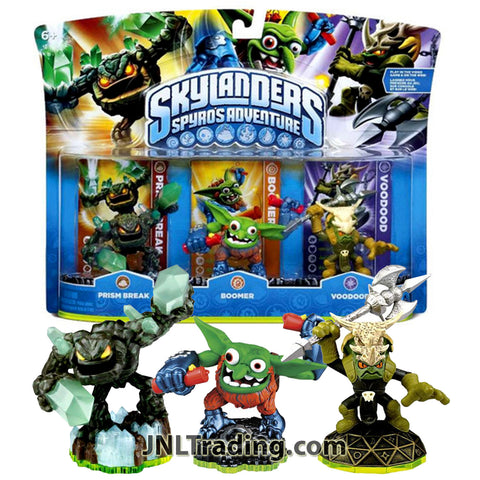 Activision Skylanders Spyro's Adventure 3 Pack Set PRISM BREAK, BOOMER and VOODOOD
Product Features
Compatible with Spyro's Adventure, Giants, SWAP Force, Trap Team, SuperChargers and Imaginators
Each figure measured approximately 3 inch tall
Produced in year 2011
For age 6 and up
Product Description
Prism Break
Prism Break used to be a frightening rock golem who didn't like to be bothered. After being buried underground for 100 years in a cave-in, he gains a change of heart when a Mabu mining expedition freed him, and Prism Break dedicated himself in protecting the Mabu tribe and Skylands. While not as cranky as before, he still prefers his own company and keeps to himself until needed, although he's quick to use his precious gem-powered abilities to protect Skylands from attack.
Boomer
Blowing things up is apparently Boomer's answer to everything. He is also known for his love of blowing stuff up; a trait that is shared by all the other Trolls in Skylands. However unlike his brethren, Boomer isn't interested in war and conquest, so he turned his back on the troll lifestyle. He is considered a little odd; if at a great but dangerous height, Boomer enjoys every minute of falling or barreling down towards the ground at a frightening pace, since the resulting crash will make a huge 'boom'. Yet for being a troll he is disgusted by the sight of trolls.
Voodood
Voodood was known as a highly decorated soldier of his people, commanding a well-known team of dangerous warriors. When not fighting evil, he is constantly searching for new and exotic bones to expand his collection. Voodood also insists that he has a heart of gold, despite knowing about the Orcs' bad reputation.
---
We Also Recommend
---