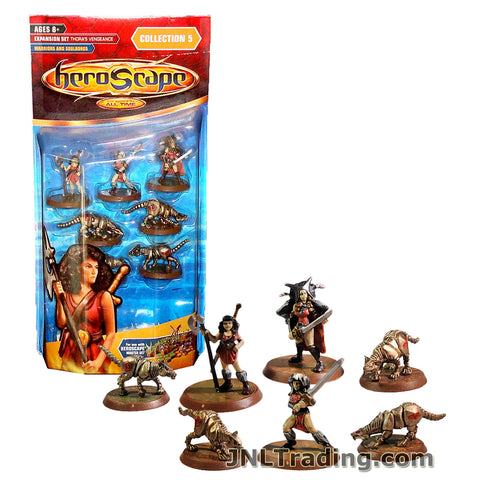 Heroscape Year 2006 Collection 5 Thora's Vengeance Series 7 Pack Figure Expansion Set - WARRIORS AND SOULBORGS with 3 Warriors of Ashra, 4 Deathreavers, 2 Double-Hex Snow Tiles and 2 Army Cards
Product Features
Includes: 3 Warriors of Ashra, 4 Deathreavers, 2 Double-Hex Snow Tiles and 2 Army Cards
Deathreavers figure measured approximately 1 inch tall
Warriors of Ashra figure measured approximately 1-1/2 inch tall
Produced in year 2006
For age 8 and up
Product Description
Power Your Army with Warriors and Soulborgs!
Warriors of Ashra:
Their powers of defensive agility serve these tricky elven warriors well in battle. When attacked, they react swiftly and often escape injury.
Deathreavers:
These Soulborgs travel quickly, defend well in battle, and never take engagement hits. When attacked, they scatter up to 4 spaces, making those robotic rodents difficult to pursue.
---
We Also Recommend
---