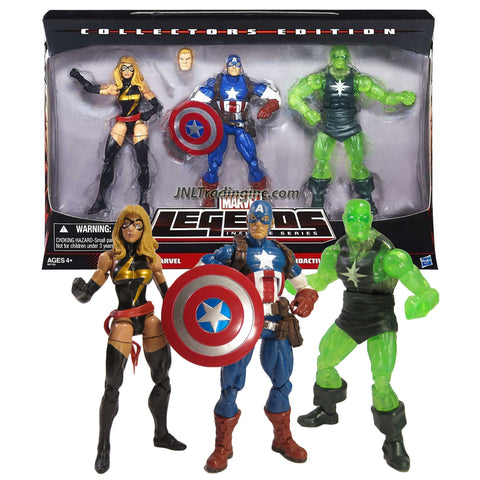 Hasbro Marvel Legends Infinite Series Exclusive Collector 3 Pack 6" Tall Figure - MS. MARVEL, CAPTAIN AMERICA with Alternative Head & RADIOACTIVE MAN
Product Features
Includes: Ms. Marvel, Captain America with Alternative Head and Radioactive Man
Each figure measured approximately 6 inch tall
Produced in year 2014
For age 4 and up
Product Description
MS. MARVEL - When her human DNA fused with that of the mighty Kree warrior Mar-Vell, Carol Denvers became the superhuman Ms. Marvel.
CAPTAIN AMERICA - Science made Steve Rogers a super-soldier with extraordinary speed, agility, strength, and durability, but it's his heart that makes him Captain America.
RADIOACTIVE MAN - A nuclear physicist with his eye on taking over the world, Dr. Chen Lu transformed himself into the walking atomic meltdown known as Radioactive Man.
---
We Also Recommend
---