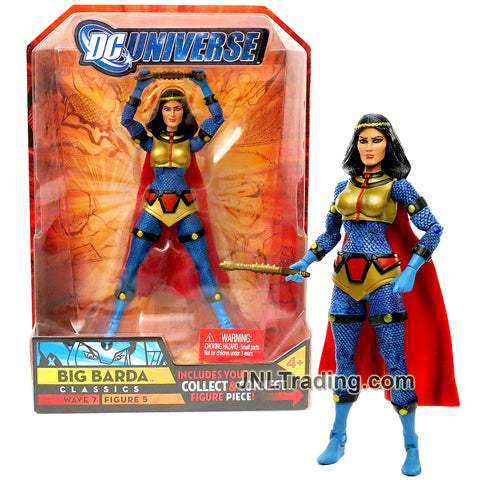 Year 2008 DC Universe Wave 7 Classics Series 6 Inch Tall Figure #5 - Variant No Helmet BIG BARDA with Mega-Rod and Atom Smasher Left Arm
Product Features
Includes: Variant No Helmet BIG BARDA with Mega-Rod and Atom Smasher Left Arm
Big Barda figure measured approximately 6 inch tall
Produced in year 2008
For age 4 and up
Product Description
BIOGRAPHY
Born on the evil, warlike planet Apokolips, Barda was specially trained in all forms of combat by Granny Goodness. However, she fell in love with Scott Free, a child of peaceful New Genesis raised on Apokolips, and used her warrior skills to help him escape to earth. Barda accompanied Scott, and they married after he assumed the name of Mister Miracle, World's Greatest Escape Artist. Since then, she has fought evil alongside her husband, both of them serving in the Justice League of America.
 STATISTICS
First Appearance:
Mister Miracle (First Series) #1 (September, 1971)
Real name:
Barda Free
Occupation:
Freedom Fighter
Base of operations:
New Genesis
Special abilities:
Enhanced strength and stamina, mastery of hand-to-hand combat, Mega-Rod serves as club, energy blaster and temporary jet propulsion system.
---
We Also Recommend
---