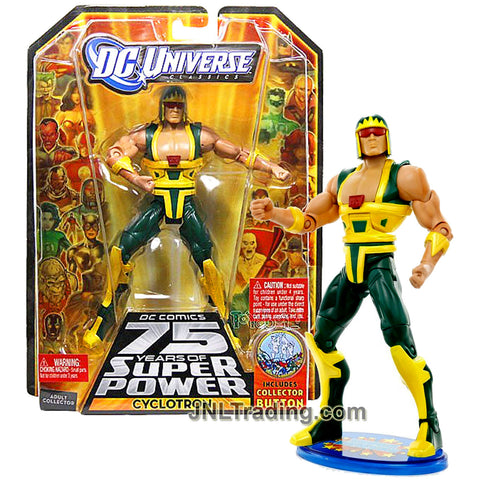 Year 2009 DC Universe Comics 75 Years of Super Power Wave 13 Classics Series 6 Inch Tall Figure #3 - CYCLOTRON R5791 the Android with Trigon's Display Base Bonus Collector Pin
Product Features
Includes: CYCLOTRON the Android with Trigon's Display Base Bonus Collector Pin (R5791)
Cyclotron figure measured approximately 6 inch tall
Produced in year 2009
For adult collector
Product Description
 BIOGRAPHY
Superman programmed Cyclotron with complete knowledge of the strengths and weaknesses of every hero and villain. Superman hoped that Cyclotron would become the ultimate tactician, able to anticipate the moves of villains based on their prior tendencies and recognize heroes unfamiliar to league members. The Android could disguise himself as human and, although he had limited physical abilities, he could rotate his torso and deliver a powerful "twister punch"
STATISTICS
First Appearance:
Super Powers #1 (1986)
Real name:
None
Occupation:
Computerized crimefighter
Base of operations:
Justice League HQ
Special abilities:
 Comprehensive knowledge of every hero's and villain's powers, ability to disguise as human, "Twister Punch."
---
We Also Recommend
---