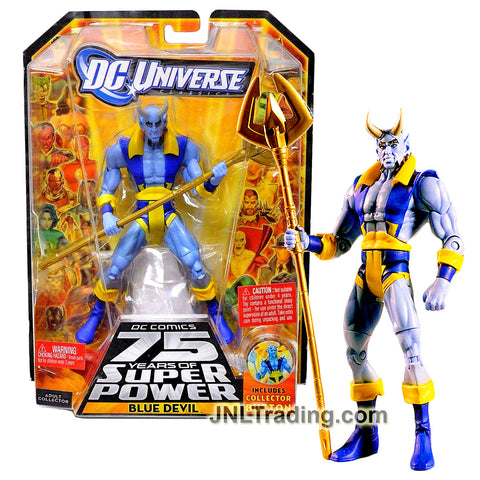 Year 2009 DC Universe Wave 13 Classics Series 6 Inch Tall Figure #6 - BLUE DEVIL with Trident and Trigon's Upper Body Plus Bonus Collector Pin
Product Features
Includes: BLUE DEVIL with Trident and Trigon's Upper Body Plus Bonus Collector Pin (R5789)
Blue Devil figure measured approximately 6 inch tall
Produced in year 2009
For adult collector
Product Description
BIOGRAPHY
While working on an action film near ancient ruins, Daniel Cassidy was fused to his bllue devil costume by an archdemon named Nebiros. Danny made the best of it and became a crime fighter. Then a deal with the demon Neron went sour and Cassidy was killed, only to be resurrected as an actual devil. Danny uses his abilities to rid the world of supernatural threats with the super-powered team Shadowpact.
STATISTICS
First Appearance:
Fury of Firestorm #24 (June 1984)
Real name:
Daniel Patrick Cassidy
Occupation:
Stuntman/Special Effect Artist
Base of operations:
The Oblivion Bar
Special abilities:
 Supernatural strength, enhanced senses, wields magic trident that locates and banishes demons.
---
We Also Recommend
---