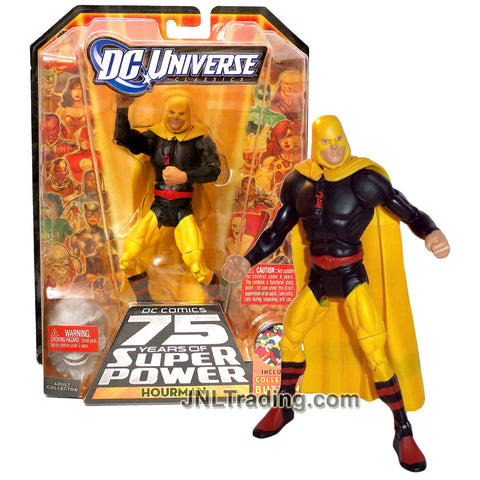 Year 2010 DC Universe Wave 14 Classics Series 6 Inch Tall Figure #5 - HOURMAN with Ultra Humanite's Head & Lower Torso Plus Collector Button
Product Features
Includes:  HOURMAN with Ultra Humanite's Head and Lower Torso Plus Collector Button
Hourman figure measured approximately 6 inch tall
Produced in year 2010
For adult collector
Product Description
HOURMAN BIOGRAPHY
In the late 1930's, chemist Rex Tyler developed the revolutionary vitamin "Miraclo" and decided to make himself the first test subject. The drug gave him increased strength, stamina, speed, agility and limited invulnerability, but only for an hour at a time. Rex decided to use these abilities to fight crime as Hourman, joining the Justice Society of America and the All-Star Squadron to help America through World War II and beyond.
STATISTICS
First Appearance: Adventure Comics #48 (1940); Infinity, Inc. #20 (1985)
Real name: Rex Tyler
Occupation: Hero
Base of operations: New York City
Special abilities: MIRACLO-induced strength, speed, agility and limited invulnerability for a period of one hour per dose.
---
We Also Recommend
---