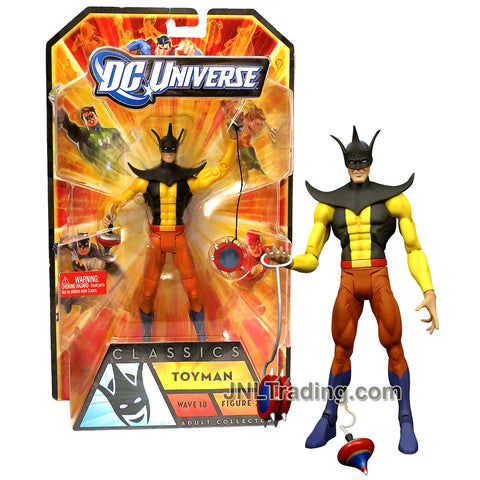 Year 2011 DC Universe Wave 18 Classics Series 7 Inch Tall Figure Set #3 - TOYMAN with Spintop Bomb, Spiked Yoyo and APACHE CHIEF's Right Arm
Product Features
Includes: TOYMAN with Spintop Bomb and Spiked Yoyo Plus APACHE CHIEF's Right Arm (V2879)
Toyman figure measured approximately 7 inch tall
Produced in year 2011
For adult collector only
Product Description
BIOGRAPHY
Winslow Schott is a shy inventor who was tricked into selling his toy company to an arms manufacturer. Realizing his technology was going into smart-bombs, Schott sent an explosive Teddy Bear to his new boss. This ironic murder marked the birth of the Toyman. A frequent adversary of Superman, Toyman is a twisted genius who lost touch with reality and sets out to punish anyone he feels deserves it.
STATISTICS

First Appearance: Action Comics #64 (September 1943)
Real name: Winslow Percival Schott
Occupation: Toy Manufacturer
Base of operations: Metropolis
Special abilities: Toy-themed weapons include exploding balls, toy tanks that spray acid and Superman action figures that really fly and have heat vision.
---
We Also Recommend
---