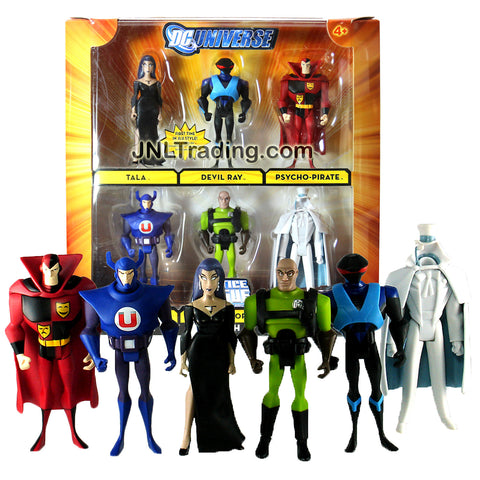 Year 2009 DC Universe JLU 4.5 Inch Tall Figure - MUTINY IN THE RANKS - DR. POLARIS, LEX LUTHOR, GENTLEMAN GHOST, TALA, DEVIL RAY & PSYCHO-PIRATE
Product Features
Includes: DR. POLARIS, LEX LUTHOR, GENTLEMAN GHOST, TALA, DEVIL RAY and PSYCHO-PIRATE
Each figure measured approximately 4-1/2 inch tall
Produced in year 2009
For age 4 and up
Product Description
DR. POLARIS
Possessing control over all forms of metal, Dr. Polaris joined Grodd's Secret Society to help make a quick underhanded buck.

LEX LUTHOR
A criminal mastermind, Lex Luthor only joined up with Gorilla Grodd's Secret Society in order to obtain the last remaining piece of Brainiac.

GENTLEMAN GHOST
A notorious highway robber from the old west, Gentleman Jim Craddock survived his own hanging and returned as a ghost to wander the earth.

TALA
A mystic who once worked under Amanda Waller at Project CADMUS, Tala was later recruited by Gorilla Grodd when he reformed the Secret Society.

DEVIL RAY
A cutthroat underwater mercenary, Devil Ray gladly joined Grodd's Secret Society helping lead a strike team against Nanda Parbat and a UN Global Warming Conference.

PSYCHO-PIRATE
Possessing a Medusa Mask which can manipulate the emotions of anyone who looks at it, Psycho-Pirate is in fact one of the most powerful villains on earth.
---
We Also Recommend
---